BBC reporter Clifford Luton child sex charges case halted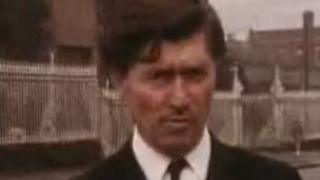 A former BBC News reporter may never be tried over alleged sexual offences after a judge upheld a decision to indefinitely halt the case.
Clifton Luton, of Ashley Road, Poole, had been accused of indecently assaulting two boys under the age of 14 and possessing indecent images.
But in December the case against Mr Luton was indefinitely halted because of his age and ill health.
On Friday a judge concluded the court had jurisdiction to make that decision.
'Too ill'
Mr Luton had been accused of assaulting one of the boys on three occasions between 1971 and 1974 and one attack on the other alleged victim between 1980 and 1981.
But in December the Crown Prosecution Service (CPS) made an application to stay the proceedings, which indefinitely halts further legal process in a court case.
The application followed medical reports from the defence and prosecution which concluded the 90-year-old was too ill to face criminal proceedings.
What is a stay of proceedings?
A stay of proceedings is the stoppage of an entire case or a specific proceeding within a case
Courts have the power to 'stay' an indictment if the court feels it would be an abuse of the process of the court to continue prosecution
A court may later lift the stay and continue the proceedings
The Attorney General said the process should be exercised "only in exceptional circumstances"
However, in April the CPS had what Judge Peter Johnson described as "second thoughts" and questioned whether a judge at Bournemouth Crown Court had jurisdiction to grant the application.
Having considered the case law, Judge Johnson concluded the court had been correct to grant the application.
Mr Luton is understood to have worked as a BBC reporter for 15 years in the 1960s and 1970s.