Christchurch town centre revamp plans go on display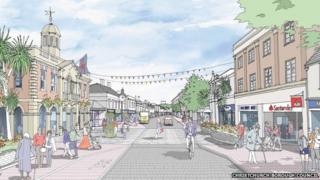 Proposals to revamp the centre of Christchurch that include a "heritage piazza", free wifi and restricting vehicle traffic have gone on display.
The Dorset town has plans to update its high street with widened pavements, reduced on-street parking and "vibrant business hubs" in vacant spaces.
Christchurch Borough Council said it wanted to make the centre "more pedestrian and cycle-friendly".
The plans can be viewed in the Mayor's Parlour and later in The Regent Centre.
Conservative council leader Ray Nottage said: "We are hoping to obtain as much feedback as possible on the proposals which have been drawn up to ensure we continue to preserve, protect and enhance the unique character of Christchurch and its historic centre."