Ex-BA pilot Bartle Frere abuse case: Jury considers verdicts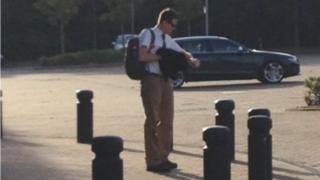 A jury has been sent out in the case of a former British Airways pilot accused of abusing boys in the UK and India.
Bartle Frere, 50, of Shipton Gorge in Dorset, denies all 25 charges, including sexual activity with a child and making indecent images.
He has told the court he finds boys "aesthetically pleasing" but denies being sexually attracted to them, describing himself as "asexual".
The bachelor told the court his interest in boys was "benevolent".
Young boys wrestling
In evidence summed up by Judge Peter Johnson, Bournemouth Crown Court heard Mr Frere allegedly had sex four or five times with a boy before he was 15.
Police also found six DVDs in Mr Frere's loft of young boys wrestling, though he said he found them "boring" and took no sexual pleasure from them.
Judge Johnson also summed up evidence of Mr Frere's alleged interest in boys in India aged around 12.
The pilot, who flew regularly to Bangalore and Chennai, said his interest was "benevolent" and he let children play in his hotel room while he rested.
Mr Frere said in Facebook messages that he wanted to be naked with the boys but said his comments were only meant to "shock their sensibilities".
Mr Frere is accused of five offences of arranging or facilitating the commission of a child sex offence, relating to boys in India.
He is also charged with indecent assault, indecency with a child and two charges of a serious sexual nature in relation to a boy in the UK.
He is also charged with one count of sexual activity with a child and one of attempting to record a person doing a private act.
The defendant also faces charges of possessing and making indecent photographs of a child.