Complaints over lack of O2 mobile signal in Dorchester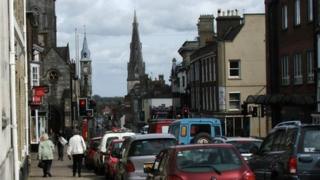 O2 customers have complained after being left with little or no mobile phone signal for several days in Dorchester.
The firm said it was it was carrying out "extensive upgrade work" and admitted its customers may experience "intermittent service".
Some residents and businesses have expressed frustration, including on the mobile phone provider's website.
O2 has apologised and said it hoped the problems would be resolved later.
Michelle Duncan, owner of Dorchester Curiosity Centre, said she had complained to O2 "every day for more than a week".
'Awful' service
"We do have a landline but it does make things difficult for us because our mobile numbers are on our business cards, and if the landline is busy no one can get through," she added.
Chris Emblen described the service as "awful", having had no signal in the town for two weeks.
Some people have been complaining about the issue on Twitter.
Jocelyn Medley-Rose tweeted: "Come on @O2 why is the phone signal in #dorchester so terrible? This is the 3rd day of very little & intermittent signal #notgoodenough"
O2 had initially told some customers on Twitter the problems were due to a mast being down.
A spokeswoman for the firm said "subject to successful installation and testing, service will be fully restored by this evening".