Branksome Tesco filling station out of action 'for weeks'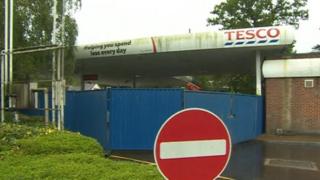 A Tesco filling station where motorists encountered engine problems after buying diesel will be closed for "a number of weeks".
Vehicles broke down after using the diesel pumps at the station in Branksome in Poole, Dorset, on 18 September.
Tests on the contaminated fuel have still proved inconclusive, the supermarket has said.
Tesco declined to give details of why the station remained closed.
Dozens of motorists were affected by the contaminated fuel.
Tesco said it had provided courtesy cars and paid compensation to some customers affected.
Anyone who has not yet reported a problem to the supermarket should call the customer service team on 0800 505555.