O2 users face further signal woes in Dorchester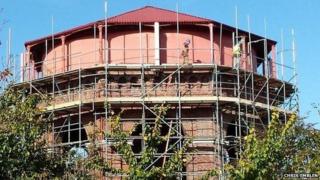 O2 mobile phone users are facing further signal woes in Dorchester.
Residents and businesses have expressed frustration after being left with little or no service for several weeks.
The firm said it had completed upgrade work but added repairs to Wessex Water's tower in the town, which its mast is attached to, meant further disruption.
The phone company has apologised. Wessex Water said its works would continue for "the next few weeks".
O2 customers have complained about the problems since the end of September on Twitter, as well as on the firm's website.
Lengthy process
Chris Emblen, who works in the town, said he was "fed up".
He also questioned why O2 had not put temporary arrangements in place, and said the company had failed to inform all of its customers about the "long-term loss of service".
A spokesman for O2 said it did investigate temporary sites "when there is likely to be a continuous problem with service" but added it was a lengthy process and said the tower repairs were unlikely to continue "much longer".
He said information about "planned outages" was listed on the company's website and said the firm alerted customers, via text, about its own upgrade works "a few months in advance".
Wessex Water described the planned repairs to the stonework of the Grade II-listed tower as "essential".
Built in 1880, it is no longer used to supply water to customers.