Dorset Regiment Khyber Pass soldiers commemorated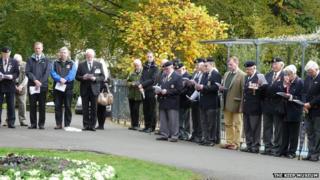 Soldiers from Dorset who were killed on the North West frontier of India in 1897 have been commemorated.
Twenty-three members of the Dorset Regiment died in fighting with local tribesman as the British aimed to keep control of the Khyber Pass.
Pte Sam Vickery was awarded the regiment's only ever Victoria Cross, for gallantry during the campaign.
A plaque was unveiled at the Tirah Memorial in Dorchester's Borough Gardens.
More than 800 Dorset soldiers were part of a British expeditionary force sent to what is now a border area between Pakistan and Afghanistan to keep the trade route open.
Chris Copson of The Keep Military Museum said the terrain made it "a very tough deal indeed" for the British troops.
"Current serving soldiers will be familiar with that part of the world - it's very similar to Helmand where a lot of our guys have been very recently, so it's got a bit of resonance there," he said.