Student warden patrols increased in Bournemouth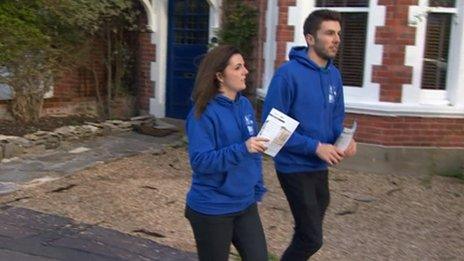 Student warden patrols in Bournemouth are being increased following a rise in complaints over anti-social behaviour.
The wardens, mostly final year students, meet residents and advise students on avoiding confrontations.
Complaints to the council in the Winton area rose from 62 in 2012-13, to 236 the following year.
The number of wardens is being doubled, in order to tackle common complaints including late night parties, bins left out and inconsiderate parking.
The £20,000 scheme, run by Bournemouth University, the Arts University of Bournemouth and the borough council, also includes an out-of-hours phone line for residents to complain.
Following a pilot scheme, numbers of student community wardens have been increased from six to 13.
Winton East councillor Pat Oakley said there had been "a lot of bad feeling" between residents and the town's 22,000 students in previous years.
"The students bring energy and vibrancy to the area but only a very small percentage is needed to disturb the neighbours."
He added while he was "concerned" at the increase in complaints, it could be due to increased awareness of how to complain about anti-social behaviour.
Student warden Jess Goldsack said: "It is difficult for residents and students to live together because we do have different schedules.
"Residents tend to have more of a nine to five, whereas students go out in the evenings, but I think the relationship can still be maintained."
Related Internet Links
The BBC is not responsible for the content of external sites.