Artificial reef makes Boscombe surfers 'laughing stock'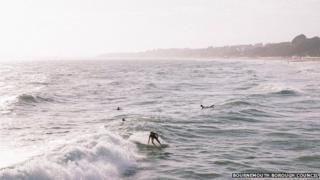 Surfers are "giving up" on Europe's first artificial surf reef in Dorset, it has been claimed.
The £3.2m structure in Boscombe, Bournemouth, was shut in 2011 after it was damaged but reopened in April.
The council has since rebranded it as a "multi-purpose" reef and said it had "huge potential" including for divers.
Surfers have said no-one is using it as a surf venue. Labour borough councillor Ben Grower has called for a public apology over the "flawed" structure.
Local surfers agree it has been successful at regenerating Boscombe, but not at generating waves.
'Laughing stock'
Surf coach Tom Hatcher said: "No-one has surfed on the reef for a couple of years.
"I don't speak for everyone but it seems they're giving up on it as a surf venue."
Elliot Withers said Boscombe surfers had become a "bit of a laughing stock".
He said surfers from elsewhere had commented: "You've got that reef that doesn't work, haven't you?"
Mr Grower said: "It's been a waste of tax-payers' money and it's time the council made a public apology."
Bournemouth Borough Council said the reef, which now forms part of the Coastal Activity Park, had helped generate "new investment and confidence in the area".
It said it had always intended to have a "bigger draw", including for kayakers, and added it had also attracted marine life for divers and snorkelers to see.
Made of 55 giant sandbags, the reef opened in 2009 after lengthy delays. It closed two years later when some of the bags were damaged by a boat's propeller.
New Zealand-based ASR Ltd, the firm that built it, went into liquidation during repair work. The council said it was still owed £15,000 by the company.