Twin Sails Bridge in Poole reopens after it gets stuck in upright position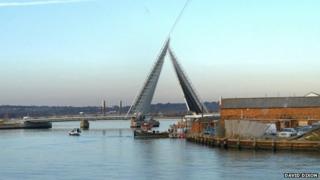 Poole's Twin Sails Bridge has reopened following emergency repairs after it was stuck in the upright position over much of the weekend.
The £37m bridge has been dogged by problems since it opened in April 2012, although it had been more reliable in recent months.
Engineers have completed a number of repairs to the structure's hydraulics system and performed two test lifts.
Users had been advised to use the old Poole Bridge in the meantime.
It comes as the Sandbanks Ferry is out of service for at least four weeks to undergo a refit.