National Trust buys Thomas Hardy Dorset heathland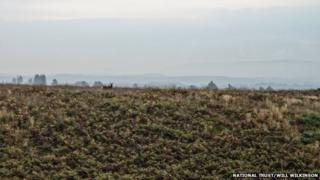 More than 200 acres (80 hectares) of heathland, thought to have inspired some of the settings for writer Thomas Hardy's novels, has been bought by the National Trust.
The organisation said Slepe Heath in Dorset was the real-life version of the fictional Egdon Heath, where Hardy's novel The Return of the Native is set.
It is home to rare birds such as Dartford warblers and nightjars
Laurie Clark, National Trust Purbeck manager, said it was a "magical" place.
"Slepe Heath is somewhere you can get that little bit closer to a true wildness," she said.
"It's a...wonderfully atmospheric place, where visitors can experience Hardy's fictional Egdon Heath.
"Dorset's heathland is among its crown jewels, in terms of both wildlife and landscape.
"By looking after Slepe Heath, we can ensure this heathland remains open and protected for everyone to continue to enjoy."
The former forestry plantation, which was bought for £650,000, will be joined up with the National Trust and Natural England's Hartland Moor and the Arne reserve, owned by the RSPB.
Slepe Heath is protected under the international Ramsar convention, covering "globally important wetlands".
It is also a Special Protection Area, a Site of Special Scientific Interest and is the largest area of lowland heath the trust has acquired for more than a decade.
Dorset writer Thomas Hardy's 19th Century novels include Far from the Madding Crowd, The Mayor of Casterbridge, Tess of the d'Urbervilles, and Jude the Obscure.
A £1m visitor centre opened in September at his birthplace near Dorchester.