Navitus Bay wind farm: Fewer turbines option submitted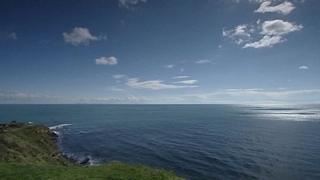 The company hoping to build a wind farm off the south coast has submitted alternative plans with fewer turbines.
A scheme for 194 turbines up to 200m (650ft) high off Dorset, Hampshire and the Isle of Wight are currently being examined by the Planning Inspectorate.
Navitus Bay said it was still committed to the original proposal but submitted plans for a smaller scheme in response to a query from the examining panel.
A campaign group called the new plan "a cynical ploy".
David Lloyd, from Challenge Navitus, said keeping plan A but submitting a smaller plan B meant the latter would not go through public consultation or have a report prepared on environmental impact.
He added: "This is a cynical ploy to try and get an amended plan in through the back door."
Bournemouth West MP Conor Burns tweeted: "I predicted this Navitus con ages ago. Local people who have watched twists and spin will not be taken in. We fight on. We fight to win."
'Second option'
Navitus Bay said the alternative option would be further away from the shore.
Project director Mike Unsworth said the Planning Inspectorate had asked Navitus Bay if it was likely to submit a proposal with fewer turbines.
"In response," he said, "we have submitted plans for a smaller scheme with fewer wind turbines, with a capacity of 630MW.
"In this proposal, the nearest turbines to shore would be further away than in the original plan."
Plans were submitted for a 970MW scheme in April.
Mr Lloyd said the original scheme should be withdrawn so that the Planning Inspectorate "can assess the impact of plan B", as it is in a different area of the sea.
Bournemouth Borough Council, Purbeck District Council and Christchurch Borough Council also oppose the plans, along with the National Trust.
Several Conservative MPs in Dorset have also spoken out against the wind farm, while Unesco has said it could affect the Jurassic Coast's World Heritage status.
Labour's Simon Bowkett, standing for South Dorset at next year's general election, welcomed the plans, and Liberal Democrat MP for Mid Dorset and North Poole Annette Brook said she was in favour of wind farms "in principle".
The Planning Inspectorate is expected to complete its examination of the proposals in March 2015 before a decision is made by the Secretary of State for Energy and Climate Change next September.