Tolpuddle Martyrs village tree pruning carried out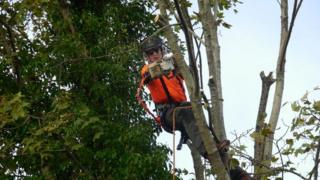 A 300-year-old tree, regarded as the birthplace of the trade union movement, is being pruned for the first time in more than a decade.
The sycamore in the Dorset village of Tolpuddle was where farm workers met in 1834 to protest over wages.
Six men, who became known as the Tolpuddle Martyrs, were deported to Australia but later pardoned.
The National Trust said work was needed as although the tree remains healthy, the trunk is becoming weak in places.
Tree surgeons have begun cutting back the crown to encourage new growth.
National Trust warden Rob Rhodes said: "The work increases the vigour of the tree and removes weight so it doesn't get caught by the wind and get pulled apart."
It is hoped the regular pollarding work, which was last carried out in 2002, will mean the sycamore may live for another two hundred years.
---
The Tolpuddle Martyrs
Farm hand George Loveless and five fellow workers: James Brine, James Hammett, James Loveless, John Standfield and Thomas Standfield met under the tree in 1834 to form a "friendly society" to protest their meagre pay of six shillings a week.
They were arrested for the crime of swearing an oath of secrecy and sentenced to seven years transportation to an Australian penal colony.
After the sentence was pronounced, popular opinion swung in support of the men. There was a massive demonstration in London and an 800,000-strong petition was delivered to Parliament.
The government relented and the men returned home with free pardons.
The village hosts the annual Tolpuddle Martyrs Festival each July in their honour.
---