Powerboat racer Ben Ridd awarded £5.5m damages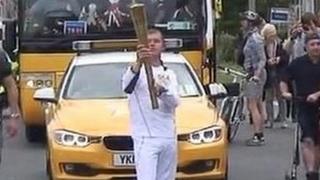 A young powerboat racer who suffered catastrophic injuries when a boat went over the top of his head has been awarded £5.5m damages.
Ben Ridd, now 23, was a 13-year-old competitor in a junior race in June 2005 at Portland Harbour, Dorset.
He fractured his skull during the crash and spent three weeks in a coma.
At the High Court the organisers, The Royal Yachting Association, admitted liability and will pay damages to meet his lifetime needs.
'Long battle'
Mr Ridd, from Poole, was co-driving the Sorcerer boat with a 10-year-old when it "hooked" and came to a sudden stop during a 90-degree turn at a marker buoy.
The following boat, which was close behind, went over the top of the teenager's head, fracturing his skull, Mr Justice Mitting heard.
Mr Ridd was wearing a recommended standard-sized adult helmet, which came off and was found in the water.
He was revived by a paramedic and airlifted to hospital.
The court heard he was left with substantial intellectual and physical problems, and has had intensive rehabilitation.
He has completed a business course at college and was an Olympic torchbearer in 2012.
The Royal Yachting Association, the overall organiser of the K200 Class Junior Offshore National Championship, agreed to pay £5.5m to meet Mr Ridd's lifetime needs, plus costs, which will be in excess of £1m.
Kim Chamberlain, associate solicitor of Novum Law which represented Mr Ridd and his parents, said: "It has been a long battle to obtain a just settlement for Ben who requires support and rehabilitation for the remainder of his life due to his catastrophic injuries.
"I am extremely pleased and reassured to know that Ben now has the security to meet his needs, allowing him to move forward and face the future with confidence."