Guinness World Record speed attempt for jigsaw cutter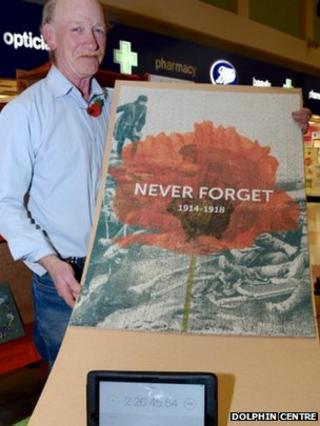 A jigsaw cutter has attempted to create a world record for the fastest hand-cut puzzle.
Dave Evans, from Weymouth, Dorset, made a 1,000 piece wooden jigsaw puzzle in two hours, 26 minutes and 45 seconds.
He is now waiting for the attempt to be confirmed by Guinness World Records.
He already holds the record for the largest hand cut jigsaw but achieved internet fame when the 40,763-piece puzzle collapsed shortly after he completed it last year.
Mr Evans, who carried out his latest challenge at Poole's Dolphin Shopping Centre, said: "I have got the world's largest record and now, once Guinness has approved it, I'll be able to recognise myself as the fastest, and probably the best, jigsaw cutter in the world."
Never Forget
Mr Evans said he began working as a jigsaw cutter at the age of 15, in what was his first job, when he was paid for the number he created.
He said: "The more you did, the more you earned, so I learnt to cut under those conditions."
The jigsaw he cut for his record attempt featured a picture of a poppy and the words Never Forget, along with the dates of World War One - 1914-1918.
Mr Evans hit the headlines in June 2013 when he created the largest jigsaw for the Queen's Diamond Jubilee.
He spent 35 days hand-cutting the 19ft 6in by 8ft (6m by 2.5m) jigsaw, featuring 33 images of the jubilee celebrations.
But it accidentally collapsed when Mr Evans was adjusting it, days after being completed.
Footage of the mishap has received more than 125,000 views on YouTube.