Ocean rubbish increases invasive marine species to Dorset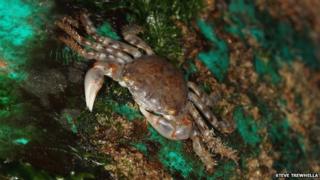 Floating rubbish in the ocean is causing an increase in rare invasive marine species to the Dorset coast.
Several species, including tropical scallops and crabs, have been found on Chesil Beach by Steve Trewhella, a conservationist from Wareham.
Mr Trewhella said his finds, all attached to fishing-related litter, highlighted the "dramatic increase in marine litter".
Their arrival has also raised concern from Dorset Wildlife Trust.
The charity said the finds highlighted "the mountains of plastic litter washing around".
The creatures had travelled about 5,000 miles across the Atlantic attached to bait pots and buoys.
Julie Hatcher, of Dorset Wildlife Trust, said: "There is so much man-made litter in the oceans that there is no end of objects for these animals to live on.
"The plastic litter in our seas could result in the introduction of new and invasive species to the UK and to countries and islands all around the world."