Bournemouth Hospital bed blockers 'face legal action'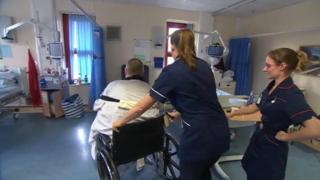 A hospital is to give so-called "bed blockers" seven days to leave or face possible legal action, saying too many families are refusing to take elderly relatives home when they are fit to go.
On Wednesday, 70 patients at the Royal Bournemouth Hospital were medically fit to leave but were still on wards.
Nearly half had somewhere safe to go - either to a family home or care home.
The hospital said some families were giving spurious reasons for not taking their loved ones back.
Katie Whiteside, clinical manager for discharge services, said one family asked the hospital to "keep hold" of a relative while they took a two-week holiday in Turkey.
Eviction threat
"At the moment we have relatives coming back telling us they don't like the decor of care homes, or they don't like the member of staff who met them at the door," she said.
"Sometimes they are decorating the house or having a 'granny annexe' built and they know that, while the patients are here, they are being fed, watered and looked after."
Having large numbers of medically fit patients occupying beds causes problems throughout the hospital.
Ms Whiteside said new patients, sometimes seriously ill, may have to wait in corridors or on trolleys in Accident and Emergency, while routine operations are cancelled because there are simply not enough beds.
The hospital trust is now planning to give a week's notice to patients who are fit enough and have a safe place to go.
And it could even evict them if they refuse to leave, or their families refuse to take them.
"We would be in a position to commence legal proceedings and formally evict a patient if that was necessary," Ms Whiteside said.
"It would be an absolute last resort but it's something we are in a position to do with the solicitors here at the trust."
She said most cases could be resolved with discussions but, if a case went to court, families and patients could be liable for legal costs of up to £50,000.
Martyn Webster, of Healthwatch Dorset, said he was concerned by the move.
"Threatening patients with legal action won't help solve the problems many people face when leaving hospital," he said.
"In our latest report there are comments from local people who felt under pressure to leave hospital before they were ready."
The problem of delayed discharge patients - or bed blockers - is common across the NHS. Most of the time it is not the patients' fault - many want to go home but need significant support, which is not always available.
This move, which Bournemouth Hospital hopes will be copied across Dorset, signals a much tougher approach to solving that problem.