Incorrect British Gas bills spark viral scam alert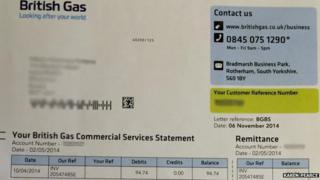 British Gas inadvertently sparked a scam alert after telling customers bills sent in error were actually fake.
The company said a "few thousand customers nationwide" had been sent the letters after a database error.
It said staff in another part of the business incorrectly told callers British Gas had not been responsible for sending them and they were fake.
One customer, Dorset vet Karen Pearce, posted a warning on Facebook, which was shared nearly 40,000 times.
Ms Pearce, of Hillside Veterinary Centre in Corfe Mullen, said: "Our accounts lady showed me this letter. The paper was really shiny, which did not look right, the account number was wrong and she knew we didn't owe any money.
"She got out our proper gas bill and compared the two and there were quite a few things that were different, including the number to contact."
'Some confusion'
Ms Pearce said an internet search of the 0845 number suggested it could have been a premium rate line so she contacted British Gas before reporting the letter to Action Fraud.
British Gas said it had since contacted all the affected customers, but colleagues at the practice said they ignored a subsequent letter from the firm, assuming it also to be fake, as it contained the same incorrect details and was printed on the same shiny paper.
A British Gas spokeswoman said: "It happened last week when we used an incorrect data file.
"We believe the surgery has called another part of British Gas instead of the area of British Gas where this has come from and I think there has been some confusion.
"We are also aware that some customers have contacted Action Fraud."
The spokeswoman said the 0845 number went through to a British Gas team in Rotherham. No residential customers were affected.
Action Fraud said it had not filed a crime report as no crime had been committed.