Thomas Hardy 'would turn in grave' at Lower Bockhampton housing plans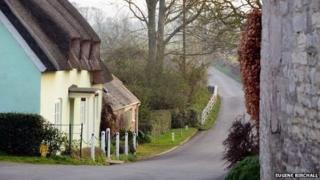 A conservation body has said author Thomas Hardy would "turn in his grave" at proposals for a housing development near his old home.
Kingston Maurward College wants to build 70 houses on parkland at Lower Bockhampton, near Stinsford, Dorset.
Kate Ashbrook, from the Open Spaces Society, said Hardy would "turn in his grave at the prospect of this massive development in his native hamlet".
The college said the plan would provide housing needed for the area.
Hardy was born at Higher Bockhampton in 1840, and wrote Far from the Madding Crowd there.
The college has applied to West Dorset District Council to build the residential development on land adjacent to the campus.
'Very special place'
Ms Ashbrook, general secretary of the society, said: "The peace and quiet of this lovely area would be ruined. Walkers, riders and cyclists would all suffer.
"This is, of course, a popular tourist destination because of its association with Hardy and it would be an outrage if the council were to allow such alien and overpowering development in this very special place."
In a letter to the council the society said the development would have a "devastating effect on the beautiful village and its surroundings".
It added: "The houses would be within the conservation area and on registered parkland [and] visible from a number of popular routes, such as the historic path alongside the River Frome."
But principal Clare Davison said the college was obliged to provide its students with "the very best facilities".
She said: "The capital released from the sale of land will enable the college to embark on a programme of redevelopment and will have a positive impact on meeting local housing needs."
The application remains under consideration, with the council accepting comments from the public until 29 November.