Twin Sails Bridge in Poole hit by 'technical problem'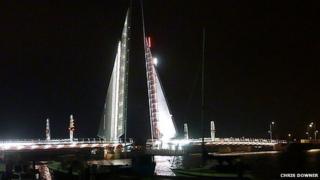 Poole's Twin Sails Bridge has reopened after a technical problem arose following overnight repairs.
Engineers experienced problems reopening the £37m bridge after planned work to the structure's hydraulics system and a number of test lifts.
The road was eventually reopened at about 14:30 BST.
The bridge has suffered many problems since it opened in April 2012 including being shut to traffic 38 times in its first six months of opening.