Hendover Coppice nature reserve damage 'deeply distressing'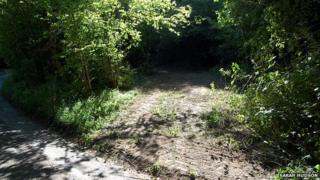 Ground has been flattened and trees destroyed in an ancient woodland in Dorset, the county's wildlife trust has said.
It called the "extensive and deliberate damage" at Hendover Coppice nature reserve, near Hilfield, "deeply distressing".
The reserve supports dormice and ancient woodland flora.
Dorset Wildlife Trust has asked the public to be "vigilant" and report damage to the trust and Dorset Police.
'Careless habitat destruction'
The trust said it first discovered hazel trees had been ripped out of the ground and put to one side to create a clearing in September.
It said the ground has since been flattened by machinery to create a track for vehicles to use as a cut through from the parking area to the adjacent road.
Neil Gibson, the site warden, said: "This kind of careless habitat destruction on a nature reserve is unacceptable and deeply distressing.
"Protected species, such as dormice, inhabit the reserve and survey boxes are found in the immediate vicinity of the cleared area.
"There are also more than 120 individual orchids in this area of several different species.
"These sites are deemed to be abundant with wildlife and need to be protected."