Tory MP Bob Walter to stand down after 17 years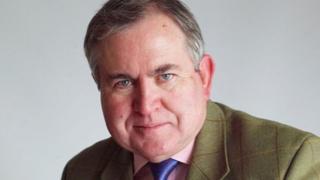 The Conservative MP for North Dorset has announced he will not seek re-election at the 2015 general election.
Bob Walter, who will be nearly 72 by the end of the next parliament, said he wanted a younger Conservative Party member to represent the constituency.
He was elected to the seat in 1997 and has been re-elected three times, serving 17 years.
Mr Walter said: "Stepping down has been a very difficult decision and not one I have taken lightly."
He added: "I want the best for my constituents and am now confident that a new Conservative MP will be better able, by the end of the next parliament, to withstand the rigors of what is undoubtedly a 24-hour-a-day, seven-day-a-week job."
He will not be retiring from politics altogether, but is planning to spend more "quality time" with his wife, children and grandchildren.
Mr Walter will remain in office until 7 May.