More Dorset E. coli cluster cases investigated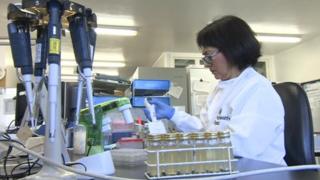 The cause of an outbreak of a rare strain of E.coli in Dorset is still unknown, health officials have said.
The number of people affected has risen to 18 in the past month.
Nursery children were among those infected with E. coli O55, which can lead to kidney problems in some cases.
Public Health England (PHE) said the outbreak was being taken "very seriously". Clusters of the strain have not been identified in England since records began in 1994.
Noeleen McFarland, a consultant in health protection at PHE said: "It has been thoroughly investigated from the first outbreaks, but with the small number of cases, it is difficult to tell people what the source is.
"Until we can identify a particular source, it's important to get that general advice out about good hand hygiene."
Ten people in the Blandford area of Dorset were diagnosed with the bacterial illness between July and November, PHE said.
A further two cases have been identified in Portland, four in Bournemouth and Poole as well as three cases outside the county which have links to Dorset.
PHE said any previous cases of the O55 strain had been associated with travel.
Samples from more than 400 family members and friends of those affected have been analysed.
Experts are looking for any link, including restaurants or supermarkets they have visited, as well as local water supplies, in order to pinpoint the cause of the outbreak.
Those affected include children at Blandford Children's Centre Nursery which reopened earlier this week following a deep clean.
Seven of the children developed the kidney problems, but there have been no deaths, PHE confirmed.
Two children remain in hospital.
Avoiding E. coli infection
Wash hands thoroughly after using the toilet, before and after handling food, and after handling animals
Remove any loose soil before storing vegetables and salads
Wash all vegetables and fruits that will be eaten raw
Store and prepare raw meat and unwashed vegetables away from ready-to-eat foods
Do not prepare raw vegetables with utensils that have also been used for raw meat
Cook all minced meat products, such as burgers and meat balls, thoroughly
People who have been ill should not prepare food for others for at least 48 hours after they have recovered
Source: Public Health England
---