Abandoned Wareham church skull was 500 years old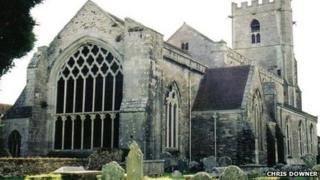 A human skull discovered on the doorstep of a Dorset church is more than 500 years old, tests have shown.
The remains were discovered in July, by the church warden of Lady St Mary's Church in Wareham.
Dorset Police said carbon dating had established the skull dated from the 15th Century.
The person who left the skull in a bag wrapped in tissue has not been traced. Dorset Police said it had since closed the case.
Vicar Jackie Maw said the find had been "curious".
"We're glad it has been resolved as much as it can be, although the mystery still remains," she said.