Sherborne's Christmas nativity crib vandalised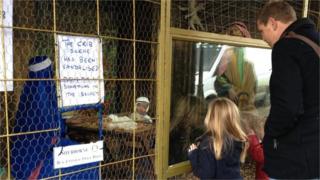 The future of a nativity crib scene in Dorset is in doubt after thieves vandalised it and stole the charity cash box.
Sherborne's crib in the conduit on Cheap Street has been damaged on several occasions, according to the town's Rotary Club which organises it.
Secretary Chris Smallbone said in a previous year "Baby Jesus was found on Digby Road".
He said the club was "sick and saddened" by the latest stunt.
He added those responsible must have used "considerable force" to get through the "floor-to-ceiling wire mesh and padlocks".
"They must have only got away with a couple of quid because we empty the box regularly," Mr Smallbone said.
"One year Baby Jesus was found on Digby Road, while the ox was discovered at the top of Cheap Street."
He said continued vandalism "gravely" threatened the conduit - a 16th Century hexagonal washing area, originally used by the monks of Sherborne Abbey.
The club will decide whether to continue organising the crib, and if so what new security measures to take, at a meeting on 3 February.
Cash raised, which is now being collected in a bucket, goes to the Four Leaf Clover Club mental health charity.
Dorset Police confirmed officers were investigating.