Stolen garden centre Christmas raffle prizes returned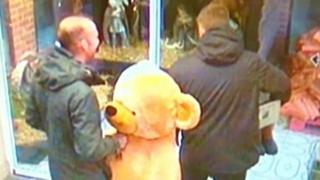 Charity prizes including a giant teddy bear which were stolen from a Dorset garden centre have been returned in time for its Christmas Eve raffle.
Two men were captured on CCTV footage taking the items out of Goulds Garden Centre, Weymouth, on 10 December.
Police said they had since been recovered and a 26-year-old man from Wimborne had been arrested and bailed.
It is hoped the raffle will raise more than £1,000 for Cancer Research and child bereavement charity Mosaic.
It is being held in memory of former garden centre employee, Lyn Weaver, who died two months ago.
Penny Corp-Palmer, operations manager at the garden centre, said news of the recovery of the prizes was "an amazing end to the story".
Police said the 4ft (1.2m) teddy bear and other items, including scarves and hats, were returned in time for the draw at 12:00 GMT.