Hundreds go for Christmas dip off Bournemouth coast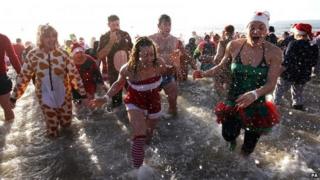 Hundreds of people have dived into the sea in fancy dress costumes off the Bournemouth coast for charity.
The swimmers at Boscombe Pier on Christmas Day were taking part in the White Christmas Dip in aid of Macmillan Caring Locally.
All participants signed a form assuming liability in cases of heart attack or hyperventilation.
They took part in Christmas regalia and onesies, although several braved the cold waters in basic swimwear.
Organiser Tom Baker said: "The dip exceeded all our expectations with over 600 of us charging into the sea and thousands of spectators watching."