Christmas trees recycled by Portland goats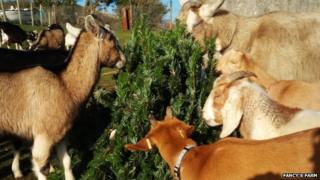 Goats at a Dorset community farm are being used as an alternative means of recycling Christmas trees.
Fancy's Farm in Portland is asking for discarded trees to feed to the farm's 25-strong herd of various goat breeds.
The goats strip the trees of their greenery before the bare branches are used to provide nature habitats on the farm.
Manager Sue Illsley said: "They love it - the roughage in the needles does them an awful lot of good."