Pokesdown Station: Campaigners to meet transport minister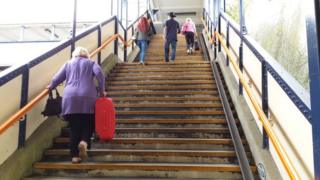 A transport minister is to meet campaigners calling for better access at a Dorset rail station, where the lifts have not worked for 30 years.
Passengers at Pokesdown Station, in Bournemouth, have to use 42 steps to reach the platforms.
Wheelchair users and others who cannot climb the stairs have to travel from Bournemouth, which is two miles away.
Pokesdown Community Forum said campaigners would meet Baroness Kramer in Westminster on 20 January.
Bournemouth East MP Tobias Ellwood, who presented a 1,200-signature petition to the prime minister calling for an upgrade in 2014, is also expected to attend.
At the time, the Department for Transport (DfT) said the station had not been among those nominated for improvements under the government's Access for All scheme but it promised to consider it when more funding became available.
A Pokesdown Community Forum spokesman said: "It's pretty appalling that our transport network is so inaccessible - the train network is excluded from normal disability rules - but we are arguing to push Pokesdown forward with the minister."
MP Claire Perry, a transport minister, had been due to visit the station in December but cancelled the trip due to personal reasons.