Bournemouth taxi drivers criticise new ranks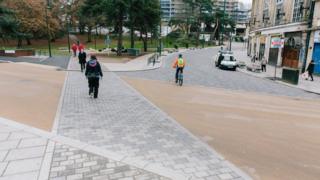 Taxi drivers in Bournemouth have said changes to town centre taxi ranks are unsafe and hitting their earnings.
The rank at Horseshoe Common, close to pubs and nightclubs on Old Christchurch Road, has been shut between midnight and 05:00 as part of a scheme to regenerate the area.
More than 120 taxi drivers have signed a petition opposing the move.
Bournemouth Borough Council said it was safer to disperse people to areas where there was more space.
The new arrangements, which were introduced just before Christmas, involve diverting passengers to an existing rank at Westover Road and new ones on Christchurch Road and Richmond Hill Road, about 600 yards (550m) away.
Taxi driver Philip Maloney said drivers' takings were "collapsing" as they were missing out on picking up late night drinkers.
He also claimed the measures would increase the potential for disturbances.
"When people come out of pubs and they can't get taxis, there is an increase in anti-social behaviour," he said.
During a consultation started in 2013, the Bournemouth Taxi Drivers' Association said the plans were a "recipe for disaster" and would leave passengers in a "vulnerable" situation at night.
The council previously said the changes were intended to make the area more "family friendly" and cut congestion at the ranks.
Councillor Michael Filer, member for transport, said: "The shared space around the common offers those living, working and visiting this part of town a safer and more attractive environment."
Dorset Police said it had been consulted over the plans and the alternative ranks were not a significant distance for people to walk to.