Weymouth town centre revamp gets government cash boost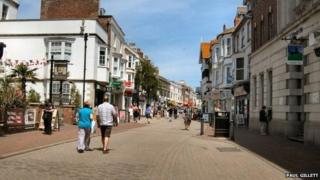 A revamp of Weymouth town centre and improvements to the A338 in Bournemouth are set to benefit from a £12.6m government investment in Dorset.
The Growth Deal cash comes on top of £66.4m announced in July last year.
Deputy Prime Minister Nick Clegg visited Arts University Bournemouth and Bournemouth University where a new digital and creative centre will be built using some of the funds.
Money is also going to Kingston Mauward College, to invest in new equipment.
The new £12.6m, to be spent between 2016 and 2021, will go on projects including improving access from the A338 Wessex Way to Wessex Fields as well as developing a plan to transform Weymouth town centre.
The money has been secured by the Dorset Local Enterprise Partnership (LEP), comprising local authorities and businesses and is estimated to create up to 26,000 new jobs and 3,000 new homes.
Dorset LEP board member, Jitinder Takar, said: "The securing of the expanded Growth Deal provides Dorset with an exciting opportunity for further economic support, success and community impact."