Weymouth photo wrongly features on Dorchester guide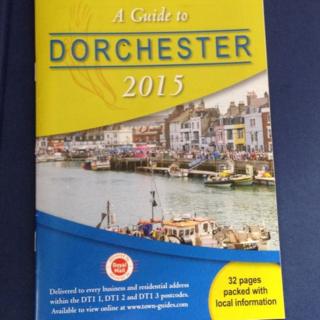 The publisher of a Dorset town guide has had to amend its front cover after initial copies pictured the wrong town.
Local Authority Publishing's guide to landlocked Dorchester featured a photo of Weymouth Harbour, eight miles away.
It said "draft" copies were only sent to firms featured in the 2015 guide.
It added the error, which has upset and bemused some local residents and businesses, has been corrected and "finished" copies would now be distributed in the town.
'A joke'
Stuart Jury, of County Town Butchers, was sent a hard copy of the draft booklet said he had not yet paid the £350 charge to advertise in the guide because of the "blaring mistake".
The blunder was labelled "ludicrous" by Ross Cumber, manager of Taste restaurant in Dorchester.
"For a town so rich in natural beauty and historical landmarks, I can't believe it happened in the first place," he said.
Andrew Wadsworth, director of the Brewery Square development in the town, said: "Dorchester's streets appear to be flooded.
"They've got to be kidding - what a joke."
The publisher said the corrected booklet would be distributed to more than 10,000 residential and business addresses from 16 February.
Dorset County Council, West Dorset District Council and Dorchester Town Council said they did not have links with the firm.