Catherine the Great medals discovered in Dorset house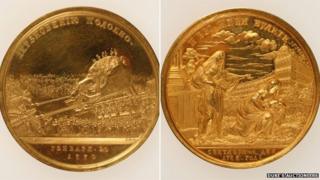 Two Russian medals from the reign of Catherine the Great have been discovered at a house in Dorset.
One of the medals dates to 1770 and shows the transportation of the granite monolith for the monument of Peter the Great, ordered by Catherine II.
The second medal commemorates the establishment of the Foundling Hospital in Moscow and dates to 1763.
It is hoped they will fetch up to £10,000 at auction next month in Dorchester where they were discovered.
'Hardly handled'
Auctioneer Timothy Medhurst, who found the medals during a house clearance, said they date to a "golden period" of Russian history.
He said the block of granite depicted on the 1770 medal, which measures 6.5cm (2.5in) in diameter, was called the "thunder stone".
It was moved 6km (3.7 miles) overland to the Gulf of Finland and then by barge to St Petersburg.
"This medal is in exceptional quality and has hardly been handled," he said.
The Foundling Hospital is commemorated on the 1763 medal, which measures 5cm (2in) in diameter.
The auction will be held on 12 March at Duke's Auctioneers.