Flood victims return to Ferndown's Gladelands Park home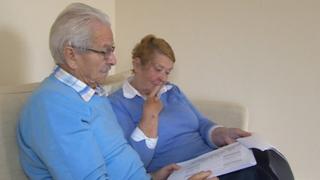 A couple from Dorset have returned home more than a year after their mobile property was flooded.
Sandie and David Fordham had been living in temporary accommodation after flood waters rose to about 4ft (1.2m) in their mobile home at Gladelands Park, Ferndown, on Christmas Eve 2013.
"It's been a really grotty year; I want to forget 2014," Mrs Fordham said.
She added they were looking forward to "a much drier future" at the park site.
'Slow and frustrating'
Their previous home was written off by their insurance company and they are now living in a new property on the same site.
As well as furniture, the couple lost photographs and books which had been handed down through the family.
They were evacuated with dozens of other Ferndown residents after the River Stour burst its banks.
Mrs Fordham said the "foul water" was up to her chest and described it as a "nightmare".
"I really don't know what I would do if anything like that happened again," she said.
Mr Fordham said getting back onto the site had been a "slow and frustrating" process, but added the experience made him realise how much he appreciated his home.
Christmas storms 2013
More than 600 properties were flooded as storms swept across south-east England on Christmas Eve
Intense rainfall was accompanied by strong, onshore winds and large waves, causing flooding to many coastal communities across the country
On Christmas Day, three severe flood warnings and 131 flood warnings were in place
Thousands of homes were left without power, mainly in southern England, after flooding and storm damage to power lines
It was the wettest December in south-east England since 1978 with some locations receiving three times the average December rainfall
December to February was the wettest winter in nearly 250 years
Source: Environment Agency/BBC News