Swanage to Wareham rail line reconnection works delayed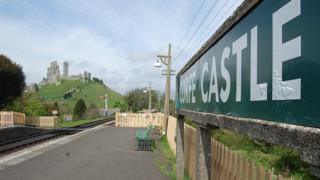 Work to reconnect a Dorset heritage railway with the mainline to allow passenger services to run for the first time in four decades has been delayed.
Trials had been planned between Swanage and Wareham for 50 days from September and 90 days in 2016.
Swanage Railway said they would now take place early next year and in 2017.
However, it added the first train had travelled on the line under a new signalling system, which it described as a "major milestone".
Rail Minister Claire Perry MP was among the invited guests who made the return journey from Wareham to Corfe Castle.
Work is also under way to replace 1,700 wooden sleepers, clear embankments, as well as repair bridges, fences and drains.
Gavin Johns, chairman of the volunteer-led Swanage Railway Trust, said issues including ownership of the line and nearby hibernating animals had led to the delays.
"As a result of the animals our work has to be carried out during the spring and summer months," he said.
The line from Swanage to Wareham was closed by British Rail and ripped up in seven weeks in 1972.
Swanage Railway volunteers rebuilt a 5.5-mile (8.8km) stretch from Swanage to Norden over 30 years and opened it as a tourist attraction.
Their long-term ambition is to reconnect the 10-mile stretch between Swanage, Corfe Castle and Wareham.
Mike Lovell, Purbeck Community Rail Partnership chairman, said: "Although further investment is still needed to reinstate a regular service, the completion of the signalling is a huge step towards a trial community service that will enable people from Corfe Castle and Swanage to travel by train to anywhere in the country."