Dorset E. coli O55: Bath boy suffers kidney failure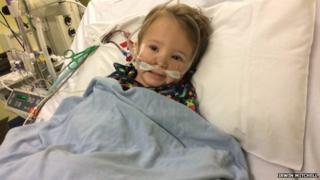 The family of a boy who suffered kidney failure after contracting E. coli, have asked solicitors to investigate the source of the outbreak in Dorset.
Joseph Fincham-Dukes, 3 and his one-year-old sister Poppy, from Bath, Somerset, were both diagnosed as having contracted the O55 strain after becoming ill in November last year.
It followed a trip to Dorset, during an outbreak involving the same strain.
Public Health England (PHE) said it was investigating 18 cases in total.
These include the cases of Joseph and Poppy Fincham-Duke, PHE said.
Between July and November last year, ten people in the Blandford area of Dorset were diagnosed with E. coli.
Further cases were later identified on Portland, in Bournemouth and Poole, as well in people from outside the county, who may have visited Dorset, PHE added.
'Kidney transplant'
Joseph and Poppy's father, Neil Fincham-Dukes, 31, has instructed lawyers at Irwin Mitchell to investigate how they contracted the illness, a spokesman from the firm said.
As well as diarrhoea and sickness, Joseph suffered a number of seizures, before spending two weeks in intensive care where he was diagnosed with Hemolytic-uremic syndrome (HUS).
The firm said he was receiving dialysis three times a week and added it was likely he would need a kidney transplant in the future.
Others affected include children at Blandford Children's Centre Nursery.
A PHE spokeswoman said there had been no new cases since 20 November but added the cause was still unknown.
Clusters of the strain had not been identified in England since records began in 1994.
Avoiding E. coli infection
Wash hands thoroughly after using the toilet, before and after handling food and after handling animals
Remove any loose soil before storing vegetables and salads
Wash all vegetables and fruits that will be eaten raw
Store and prepare raw meat and unwashed vegetables away from ready-to-eat foods
Do not prepare raw vegetables with utensils that have also been used for raw meat
Cook all minced meat products, such as burgers and meat balls, thoroughly
People who have been ill should not prepare food for others for at least 48 hours after they have recovered
Source: Public Health England
---