Purbeck Care Home: Report highlights abuse and neglect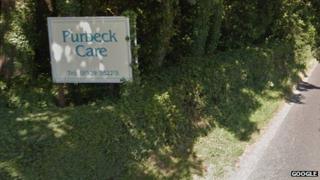 Vulnerable adults at a Dorset care home were abused and neglected by staff, a serious case review has found.
The report into Purbeck Care Home in Wareham, found there were eight allegations of staff abusing residents from 2010 to 2012.
One led to a criminal conviction in 2013. The home was closed in October.
All agencies on the Dorset, Bournemouth and Poole Safeguarding Adults Board, including the council and police, said they "fully accepted" the report.
The multi-agency investigation began in 2012, when the home had 40 residents placed there by 16 agencies, including Dorset County Council and Dorset Clinical Commissioning Group.
A newly-appointed member of staff raised concerns after witnessing the verbal abuse and neglect of a vulnerable resident.
In one confirmed case, a staff member was prosecuted for unauthorised withdrawals from a resident's bank account.
'Abuse and assault'
The report found 13 members of staff had criminal convictions, two of whom were suspended as a result.
There were also 10 reported incidents of residents assaulting other residents. Staff regularly told residents to "shut up", "be quiet" and "sit down".
Concerns over staff training and knowledge, food and drink provision and dirty kitchen areas were also raised.
Dorset County Council said it stopped funding any new placements at the home in 2012, after a male member of staff "subjected a female resident to a prolonged period of physical and verbal abuse" and was later jailed for six months.
The report highlighted the need for better sharing of information between agencies and stronger links with residents' families.
Jane Ashman, independent chair of the Dorset, Bournemouth and Poole Safeguarding Adults Board, said it had started implementing changes with "regular intelligence sharing meetings" set up between social services, police and the Care Quality Commission.
"If a care provider is causing concerns for quite some time, it now reported to the board, so all agencies are aware of the issues and concern," she added.