NASA treadmill at Bournemouth hospital helps injured walk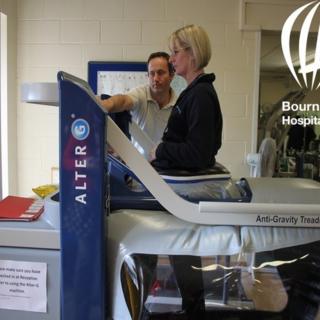 A treadmill using technology designed for astronauts is being used to help patients in Bournemouth.
The anti-gravity equipment was bought by donations for the Royal Bournemouth Hospital.
It will be used to help people with leg injuries and disorders recover, as they can exercise without putting their whole body weight on their legs.
The machine cost £36,000 and was funded by Bournemouth Hospital Charity. It is one of a few in the country.
Patients with arthritis of the knee joint and some with lower back pain, are zipped into a sealed bag which is then pumped with air.
Their body weight is reduced by as much as 80% while they use they machine.
James Creasey, senior physiotherapist, said: "Patients can walk earlier or with less pain than they otherwise would experience and this can have a really positive effect on the speed of their recovery."
Patient Phil Ducker uses the machine as he has Charcot Marie Tooth Disease, a degenerative condition which means his muscles get tired quickly.
He said: "It has improved the muscle mass in my legs and has increased my confidence.
"Because of this machine, I feel I can fight my disease - it has really given me hope."