Witchampton fatal biplane crash: Pilot 'attempted loop'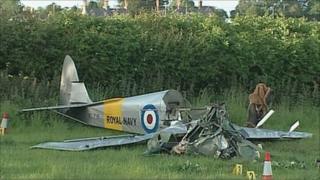 The pilot of a plane that crashed, killing a former Marine, was attempting a "loop-the-loop", a court has heard.
Scott Hoyle, 48, from Poole, had been flying a vintage Tiger Moth, which crashed near Witchampton, north of Wimborne Minster, Dorset in May 2011.
His passenger, former Royal Marine Commando Orlando Rogers, 26, was fatally injured in the crash and died in hospital.
Mr Hoyle, who is also a former Marine, denies manslaughter.
Prosecuting, Michael Bowes QC said "Scott Hoyle flew the aircraft in a way that created an obvious risk to Orlando Rogers. Scott Hoyle chose to disregard this, or was indifferent.
"He attempted the loop at a height at which recovery was improbable.
"Scott Hoyle was inexperienced and untrained for spin recovery."
Mr Hoyle, of Charborough Road, Broadstone, also denies endangering the safety of an aircraft.
The trial continues.