Portland residents visit namesake ship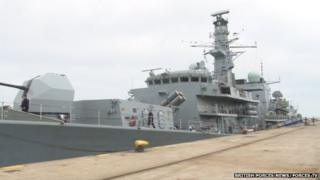 HMS Portland has been welcoming members of the public on the second day of its four-day visit to its namesake town.
The Plymouth-based Type 23 frigate arrived in Portland, Dorset, on Saturday for the first time since Remembrance Day events in November.
Hundreds of people were expected to board the ship on Sunday for a free glimpse of life on board.
Sea Cadets from Axbridge, Bridport and Taunton are also due to visit the ship while it is in dock.
HMS Portland returned to Plymouth in August after a seven-month deployment in anti-drug smuggling operations, working with the US Coastguard.
Since then the ship and crew have been preparing for its new role as the lead Anti Submarine Warfare vessel.
It is due to set sail again on Tuesday.