Thousands sign Studland Bay seahorse habitat petition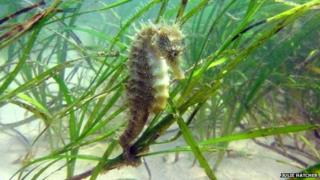 A petition opposing the decision to exclude a "crucial" seahorse habitat from a marine protection programme has attracted 100,000 signatures.
Studland Bay, on the Dorset coast, was dropped from a list of potential Marine Conservation Zones (MCZ) in February.
Neil Garrick-Maidment, of the Seahorse Trust, set up the petition in a bid to reverse the decision.
The trust said it planned to take the petition to government officials in the hope the site will be reconsidered.
Mr Garrick-Maidment said coastal beauty spot Studland Bay is an important habitat for two UK species - the spiny seahorse and short-snouted seahorse.
'Bitterly disappointed'
"In 2008 both species were listed under the Wildlife and Countryside Act as threatened," he said.
"This means that they are legally protected in the same way as bats and otters, and habitats must be protected as well."
The trust suggested Studland Bay should be among the first MCZ tranche designated in November 2013, but was unsuccessful.
The zones are put in place to protect life on the seabed from dredging and bottom-trawling.
Dorset Wildlife Trust said it was "shocked and bitterly disappointed" at the bay being dropped from the government's latest list of potential zones.
The waters have a large underwater seagrass field which is a "crucial habitat" for seahorses, the trust said.
Defra said its consultation on 23 proposed zones runs until April, with decisions on each site due within 12 months.