Bournemouth beach erosion: Test boreholes drilled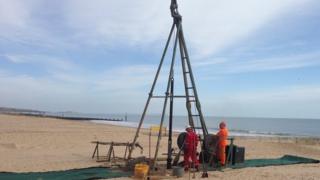 Work has begun to drill 15 boreholes into Bournemouth's beach in the quest to prevent its rapid erosion.
A rig is drilling 15m (49ft) deep holes to see if the land is suitable for the construction of new groynes.
Five test holes will be drilled into the sand between Bournemouth and Boscombe piers and 10 east of Boscombe Pier.
David Smith, cabinet member for planning and environment, described the investigations as "vital".
He added: "Groynes have been built for over 100 years to protect the cliff and cliff-top properties in Bournemouth.
"With our coastline eroding at approximately 1m per year this work is especially important."
The Environmental Scientifics Group is carrying out the drilling throughout March. It is being funded by the Environment Agency.
In January, Bournemouth Borough Council announced a 17 year, £43.7m beach management plan aimed at preventing erosion in the town.