Row after Corfe Mullen's 'Mr Pig' is put down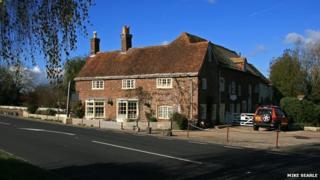 A man who was prosecuted for failing to take proper care of his pig insists the RSPCA was wrong to put his pet down.
The RSPCA denied the claim and said Mr Pig, a kunekune, who had a large tumour on his face, had "been suffering significantly for three to four weeks".
The pig's owner, Bob Skinner, from Corfe Mullen, Dorset, said: "Although old [about 20], he showed no signs to me of suffering."
Mr Skinner was found to be in breach of animal welfare laws last week.
He was taken to court by the RSPCA after not seeking veterinary treatment for Mr Pig.
'Huge amount of pain'
Speaking on BBC Radio 4's Today programme, Mr Skinner, who claims the RSPCA did not contact him prior to taking his pet said: "He was happy, he was in his golden years.
"If I would have called a vet, the vet would have put him down and he wasn't ready to be put down."
The RSPCA has robustly defended its decision and said it did all it could to contact Mr Skinner before putting Mr Pig to sleep.
In a statement, it said: "The flesh around the large tumour was rotting, causing a huge amount of pain.
"Given the extent of the suffering the pig was in, the attending veterinary surgeon felt that he should be put to sleep imminently to relieve his pain."