Poole 'urgent' burial plot land approved at crematorium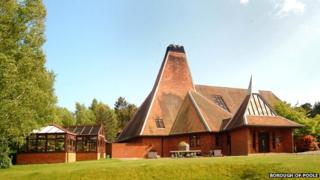 Green belt land is to be opened up for 500 "urgently needed" burial plots at a local crematorium, Poole councillors have agreed.
The town is facing a "chronic shortage" at its four cemeteries with only a 10-month supply of plots left.
The crematorium land is used for ash interments but only two objections were received about disturbing the area.
The borough council said the land was approved for the plots as there were no other "viable" burial sites.
'Upsetting to relatives'
The county has one of the oldest populations in the country owing largely to Dorset being a popular place to retire.
Figures show Dorset has 11.4 deaths per 1,000 population compared to 8.7 for England and Wales.
The Poole Crematorium land in Gravel Hill will provide burial space for up to 10 years, the council estimates.
Two letters sent to the council objected to the proposal as "to disturb the area" where ashes are buried "would be upsetting to relatives and disrupt the peace".
The council said there are existing ash interments with plaques to the west of the site which would be retained, as well as a number of memorial trees in the surrounding area.