Sembcorp fined over unfit tap water in Bournemouth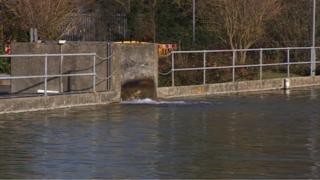 Water provider Sembcorp has been fined £85,000 after admitting providing water unfit for human consumption.
The company, which supplies homes in Bournemouth, apologised following the discovery of the parasite in tap water in May 2013.
Cryptosporidium, which causes gastrointestinal illness, was found in treated drinking water at the Alderney Water Treatment works in Wallisdown.
Magistrates said Sembcorp had been "negligent, bordering on reckless".
At Bournemouth Magistrates' Court, the company admitted five offences under the Water Industry Act.
The company, which supplies about 500,000 homes, was also ordered to pay £49,000 costs.
Following the hearing, Sembcorp managing director Roger Harrington said: "We are particularly sorry for the discomfort and distress caused to the people affected."
The company said it had since installed ultraviolet filters that killed all bacteria.