Prince Charles requests Poundbury pub to be named after Camilla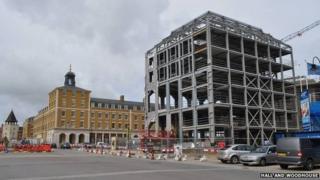 The Prince of Wales has requested a new pub in the Duchy of Cornwall's village of Poundbury to be named after his wife.
The Duchess of Cornwall Inn, due to open in early 2016, is a joint development by the Duchy of Cornwall and brewer Hall & Woodhouse.
The village, on Dorchester's outskirts, has been built according to the architectural ideas of Prince Charles.
Launched in 1993, it is now home to 2,500 people and 170 businesses.
The inn, being built in Queen Mother Square, will have 20 rooms. Prince Charles made the name suggestion to the brewery.