Melbury Abbas unstable slopes plan to 'preserve more trees'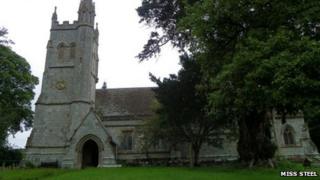 Revised plans to repair unstable slopes on either side of a main road through a Dorset village will "preserve more trees", the county council has said.
The authority shut Dinah's Hollow, which runs through Melbury Abbas, near Shaftesbury, last April.
It said the soil and rock slopes, which line the road, were "sufficient to engulf a small vehicle" if a slip occurred.
Initial designs raised concerns over the effect on trees and vegetation.
Dorset County Council said the modified proposal would retain the existing width between the base of the slopes and reduce the number of trees that needed to be felled.
"The new design preserves more trees than the previous proposal, but still gives us a solution to stabilise the slopes and prevent the risk to life," Andrew Martin, head of highways said.
He said the repairs were expected to last "for at least the next 125 years".
The authority said a solution had now been found for the rocks which also loosened below St Thomas's Church.
The slopes along the highway are privately owned and the council said negotiations were continuing with the landowners.
A two-mile (3km) diversion, via the A350 Blandford to Shaftesbury road, is currently in place.