Boscombe artificial reef cash 'unlikely to be recovered'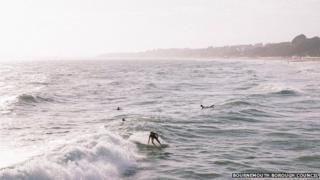 Thousands of pounds owed to a Dorset council by the company that built Europe's first artificial surf reef looks unlikely to be recovered.
The £3.2m structure in Boscombe, Bournemouth, was closed for three years after it was damaged in 2011.
Liquidators for New Zealand-based ASR Limited said a review of the firm's insolvent transactions deemed there was "little prospect of recovery".
The borough council said it would not pursue the £15,000 it was owed.
The authority has since rebranded the site a "multi-purpose" reef, as part of the Coastal Activity Park.
There have been claims surfers are "giving up" on the reef which has made them a "laughing stock".
'Uneconomical to pursue'
Liquidators PricewaterhouseCoopers (PWC) has repeatedly been unable to contact ASR Limited director Nick Behunin or the major shareholder, a company understood to be operated by Mr Behunin.
In its latest report, for September to March, it said it remained "unsuccessful" and added Mr Behunin was thought to be overseas.
It said all "tangible assets at the date of liquidation have been sold".
A review of insolvent transactions concluded they were "uneconomical to pursue", it added.
Bournemouth Borough Council said it was "not surprised" by the conclusions of PWC.
PWC said it was "not practicable" for it to provide an estimated date for the completion of the liquidation.
The reef, made of 55 giant sandbags, opened in 2009 after lengthy delays. It closed two years later when it was damaged by a boat's propeller.
ASR Limited went into liquidation during repair work.
---
Surf reef timeline
•July 2008 - Construction begins
•November 2009 - Reef opens
•May 2010 - Wave quality deemed "sub-standard" in report
•November 2010 - Safety report reveals structure "hazards"
•March 2011 - Reef closes after sandbags damaged
•April 2011 - Repairs begin
•September 2012 - ASR Ltd goes into liquidation
•November 2013 - Council receives £306,531 insurance settlement
•April 2014 - Reef reopens
---