Bournemouth hotel shuts over suspected norovirus outbreak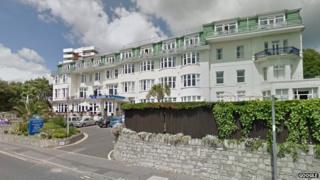 A Bournemouth hotel has temporarily closed its doors after a suspected outbreak of norovirus.
A number of guests at the three-star Marsham Court Hotel, on Russell-Cotes Road, were taken ill over the weekend.
Managers said the hotel was being deep cleaned and would stay closed until Sunday.
Bournemouth Borough Council said the 87-room hotel had been inspected, with initial signs pointing to norovirus being the cause of the sickness.
In a media statement, Rosie Wallace, director of the Marsham Court Hotel, said the outbreak had been "clearly distressing" for guests taken ill.
"At this stage we understand this to be an outbreak of norovirus and that our food is not believed to be linked.
"My family has been running the hotel for 28 years and we have not encountered a situation like this before," she added.
She said bookings would be refunded and a couple due to get married at the weekend had been helped to find an alternative venue.
Louise Jones, team manager for public safety at Bournemouth Council, said: "We are working with the hotel, who have been fully co-operative and immediately followed our recommendations to close and undertake a thorough clean of the premises."
Noroviruses, sometimes known as "winter vomiting viruses" are stomach bugs which cause the sudden onset of nausea followed by projectile vomiting and diarrhoea.