Fridge-freezer pushed off Bournemouth rail bridge into path of train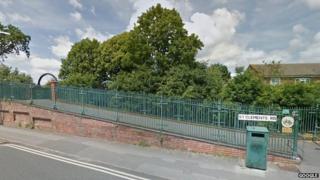 A group of people pushed a large fridge-freezer off a railway bridge into the path of an oncoming train, police have said.
Two or three people hoisted the appliance over shoulder-height railings and dumped it on to the tracks below, British Transport Police (BTP) believe.
The London Waterloo to Poole train hit the object as it approached the footbridge in Bournemouth on Wednesday.
It was forced to stop after the fridge smashed to pieces.
The incident, at the Palmerston Road and St Clement's Road bridge, took place between 23:00 BST and 23:30.
Although the train was delayed, it sustained only "superficial" damage, BTP said.
Sgt Elwyn Jones called it a "totally reckless act that endangered the safety of passengers and staff".
"The driver noticed an object on the line but was unable to stop in time," he said.
"Once the line was cleared, the train was able to move off, but the incident caused delays to services that evening.
"[Throwing the fridge] would have been no easy task and would have taken two or three strong individuals to lift it over the shoulder-height railings."
Jason Murphy, of the South West Trains-Network Rail Alliance, said it was working closely with British Transport Police to find those responsible.